CASHe Granting Loans Based on Social Media Interactions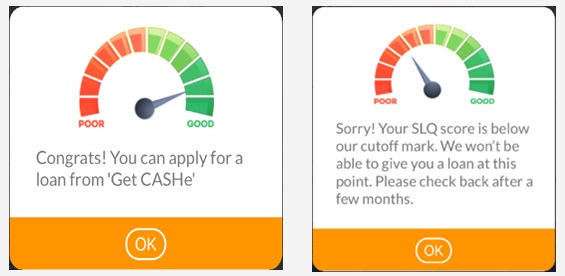 The digital lending platform CASHe introduces the first "alternate" credit rating system in India, aka "Social Loan Quotient" (SLQ). This service searches through the applicant's social behaviour; it is mainly intended for working Millennials with no prior credit history and applying for short-term loans.
CASHe features an instant decisioning process for short-term cash loans (ranging from 5,000 to 100,000 rupees, over 15, 30 or 90 days, with 1.5%, 3% and 2.5% monthly interest rates applied). These loans can be subscribed via a mobile app by young workers who were never granted a loan before: a way for CASHe to stand out before conventional banking offers. Addressing this issue for customers missing a credit history, based on their "SLQ", provides this score with a key part in aiming for a specific customer segment: roughly 130 million Indian people.
The selected approach for SLQ changes the way credit risks are calculated , since it builds on the borrowers' activity on social media (Facebook, Google+, LinkedIn) and their overall interactions with digital services (especially mobile uses). This digital footprint acts as a reliable reference to assess their creditworthiness as well as their actual intent to repay their monthly instalments.
All over-18 citizens, with 15,000 rupees (€188) monthly income, a bank account and a social media profile may apply for a loan on this platform. They only have to fill out a profile form and send over the required documents. The credit score is calculated in real time to let the customer know whether he is eligible or not.
Comments – Consolidating the Open-Banking trend in India
CASHe is taking part in the ongoing revolution on the Indian credit market. In this country millions of people were never granted a loan. Millennials are the targets they mostly aim for as they buy items online, are active on social media and are financially stable. In this case, a social approach prevails.
Besides, despite the applicants' lack of credit history, they stand out as good for these lending processes. Through this service, CASHe is hoping to encourage conventional banks and other financial players to also use their SLQ scoring system, as an AI-powered reference platform to assess their borrowers' creditworthiness. In fact, this start-up is considering to provide access to their algorithms for third party players interested in refining their scoring systems. Just like Fintonic with "FinScore", CASHe acts as an intermediary and has a financial partner (Bhanix Finance & Investment Limited) for the credit-granting process. This announcement highlights further developments in the Indian market for Open-Banking.