Credit
Innovation
Romania
Carrefour and Mastercard Adding Payment in Instalments Service for In-Store Purchases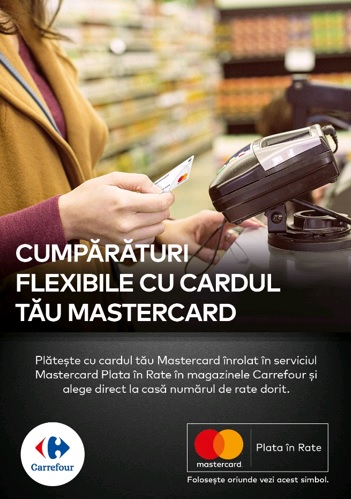 Carrefour Romania partners with Mastercard to launch a "Payment in Instalments" program for Carrefour hypermarkets. The service called "Plata in Rate", allows customers to spread their payments regardless of their bank. This Mastercard program launched in 2016 now applies to food expenditures as well.
In 2016 already, Mastercard introduced "Plata in Rate" (literally "Payment in Instalments"). This service used to let Mastercard cardholders from partner banks split their in-store payments into several instalments. Several issuers opted for this programme, including Ikea, UniCredit Bank and Cetelem. 
From now on, this program also applies to the food expenditures in the retail sector in partnership with Carrefour. The card scheme allows Romanian consumers to spread their payments at checkout. After the customer enters his PIN code, several options are displayed on the POS device for him to make his choice.
This service is also meant to increase consumers' purchasing power while enabling them to enjoy more flexibility in making payments and managing their budget.
Comments – Applying credit options to FMCG products, too
In 2016, the "Plata in Rate" program soon was adopted by Romanian customers and nearly 30% of Mastercard cardholders with access to this service decided to split their payments using it. This service is especially relevant for tech-savvy customers, who were also keen on adopting contactless payment. In line with the group's focus on designing innovative customer processes, self-checkout counters were introduced in 15 Carrefour locations, too.
As this instalment program actually has been quite successful, Mastercard started aiming for the retail sector and, especially, for food expenditures. Other retail players –such as Banque Casino in France– also added in-store payment facilities.