Blink Turning Taxis into ATMs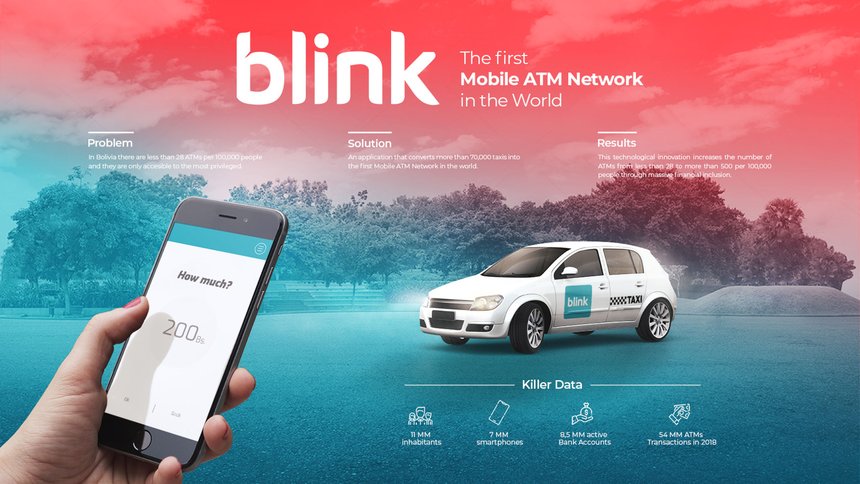 FACTS
The advertising agency Ogilvy launches Blink, a start-up aiming at turning 70,000 Bolivian taxis into a mobile network.
Goal: make cash available at any moment based on a fleet of taxis.
Blink emerged the Bolivian subsidiary of marketing firm Ogilvy and became a full-blown start-up. Their app lets customers order cash using a network of taxi drivers.
How it works

Participating drivers go about their route as usual, but carry around a certain amount of cash in their car.
Through the app, users may call upon nearby taxi drivers and specify the amount they need to withdraw.
The driver then hands the cash over to the user.
The app generates a code to be sent to the driver, so they can take out the same amount they delivered at an ATM operated by the user's bank.
The driver also receives a commission for performed service.

Blink aims for the BtoC market but might later on target BtoB segments, too.
CHALLENGES
A need to make cash more accessible. According to the World Bank, over half of the adults in Bolivia hold a bank account, but just 40% of these customers made or received a digital payment in 2017. ATM density has reached 40 machines per 100,000 people.
Optimised experience. Blink provides an online solution to an off-line need. Their system might help increase the local number of ATMs up to 20 times. They also plan on using data from their app to assist banks with defining strategic points where ATMs could relevantly be installed.
MARKET PERSPECTIVE
Their solution received a gold innovation award at the Latin American event El Ojo de Iberoamérica, they also secured venture capital funding from a FinTech accelerator.
Habits are country-specific. Unlike in Bolivia, in Belgium, customers favour e-payments over cash. In this case, four major banks in Belgium are building a shared ATM network to optimise their respective networks.
Blink's concept is also reminiscent of Idea Bank's Mobile ATM fleet in Poland, which allowed them to meet their customers' need for cash access points.