Mobility
Distribution Channel – Internet
Brazil
Banco RCI Brasil Acquires Website for Selling and Financing Kwid Car Models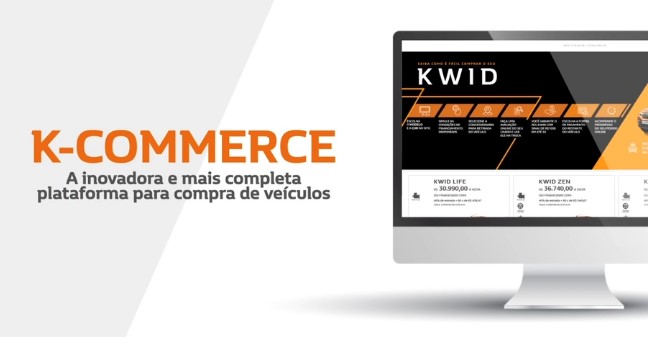 The city car mini-crossover Kwid model for emerging markets by Renault gets a dematerialised distribution channel in Brazil. The French car maker bets on selling new cars online, following promising tests. From customisation to payments, and financing options, all key steps of the digital purchasing process are featured.
The car manufacturer Renault provided themselves with a distribution tool for selling Kwid vehicles in Brazil. This move is led by their local financial arm Banco RCI Brasil. It relies on a website called K Commerce.
K Commerce is accessible on tablet, smartphone and via PC. It lets customers choose the Kwid model they prefer in just a few clicks. They can also customise its colour, and get a financing plan: specify a potential amount for their deposit or required monthly amount for repayments. The users can pay part or all of their purchase via card (secured by RCI e-payment solution), then pick a car dealership where they will sign their administrative documents and fetch their car.
An assessment tool to deal with old cars is also planned online for trade-in offers. The website lets them pay cash but also includes a full-digital financing solution, managed by Banco RCI Brasil. A bunddel is proposed too, where death, disability and loss of employment are covered.
Comments – Step-by-step approach to building a model
Renault chooses to introduce K commerce after a successful pilot test in Brazil. In June 2017, the car maker started enabling drivers to pre-order a Kwid vehicle on their dedicated website. Enthusiastic response from their customer base regarding this channel for preorders led them to take this move one step further through getting their local subsidiary Banco RCI Brasil involved. This model has also been expanded to full-digital purchases. K commerce has been online since January 2018 but used to propose a less optimised version. In April, a pre-acceptance tool for financing options was added along with a secure e-payment solution.
As with the launch of their Kwid model in Europe, no official date has been released for potential extension of this service to other countries. Yet, Renault still stresses their commitment to addressing the increasingly promising market for online sales of new cars (following in the footsteps of other car makers such as Audi and Hyundai, for instance).