Credit
Innovation
Belgium
Arval and Engie Add Long-Term Rental Offer for ECs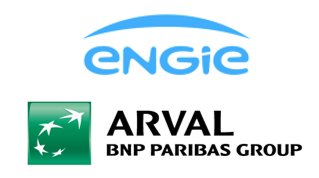 FACTS
Arval –subsidiary of BNP Paribas focusing on corporate car rentals– partners with the electric utility company Engie on featuring long-term rental offers for electric vehicles for businesses, local authorities and individual customers
Each monthly payment covers rental services for an electric car (insured by Arval) as well as the installation and maintenance of dedicated charging stations (dealt with by Engie) on the company's premises or at the customer's home address.
The exact terms of the offer haven't yet been detailed but it should be made available early next year in Belgium and, later on, in France. Other considered markets include Italy, the Netherlands and the UK.
CHALLENGES
Improving access to electric vehicles. This challenge is all the more relevant that businesses are increasingly in favour of applying alternative energies to their fleets: 26% are considering electric vehicles for part of their fleet in the next three years (Source: Engie).
They are also looking into green/clean energy options from renewable energy resources: hydro, wind and solar energy. This could improve air quality and address noise pollution issues in urban areas.
Aiming for an international approach. For Arval, this opportunity stresses and confirms their intent to praise a transition to green energy based on cleaner solutions. Hence their partnership with Engie: a strategic international payer likely to speed up this process.
MARKET PERSPECTIVE
Through this commercial agreement with Engie, Arval further looks into including electric vehicles and environmental consciousness in their strategy. This consideration became one of their main development lines in providing scalable mobility-oriented services to their customers.
Both Engie and Arval stand out as they make room for a "green energy"-based option: a one-of-a-kind approach on this market for now. And, as a leading electricity supplier, Engie praises clean energy as a key strategic lever.
Likewise, this initiative is relevant to the current context: the number of electric cars riding French roads kept increasing throughout 2018.
Eventually, other industry players started focusing on electric energy, too: FCA Group for their recovery plan, Tesco and Volkswagen in the UK, and even Nissan with their Nissan Energy Share program.