Credit
Innovation
United Kingdom
Alternative Airlines Adds Klarna to Payment Options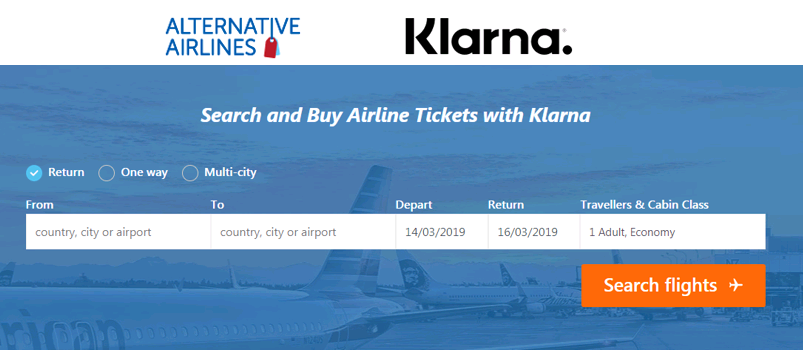 FACTS
The British flight search website Alternative Airlines partners with Klarna to add instalments to their list of payment options.
Featuring Klarna as an option will enable their customers in the UK to rely on Pay Later features, allowing them to use Slice It to pay for their flight in instalments, even within 60 days after purchase.
3 Pay Later options:

Pay later for free, within 14 days
Pay later for free, within 30 days
Pay later within 60 days, for €3

2 instalment options:

Split payment in 3 (Slice it by card)
Pay on credit, over 3 to 24 months (Slice it)

Furthermore, Alternative Airlines customers in Germany, Switzerland, Austria, Spain, Poland, Italy, Belgium and The Netherlands will be able to pay through Sofort: an instant credit transfer-based e-payment service.
CHALLENGES
Stay on track with market evolution and add flexibility for travellers paying for flights online. Flexible financing options are becoming increasingly popular in the travel industry.
This partnership with Klarna is a way for Alternative Airlines to let their customers pay how and when they think best. Klarna also released a study in 2018 stressing UK customers' expectations when it comes to e-payment facilities applied to booking their journeys.
As they feature a new way to pay for travels, the e-payment specialist Klarna stands out as a serious alternative to credit card-based payments.
MARKET PERSPECTIVE
The flight search website chooses Klarna to enhance their range of payment options, which already includes PayPal, Amazon Pay, Google Pay, Affirm, Apple Pay and even Alipay in China.
Likewise, the French airline company Aigle Azur recently teamed up with Banque Casino to provide instalment options to their customers, spreading their e-payments in 3 or 4 instalments.
Read also: https://www.alternativeairlines.com/klarna#Pay now