Mobility
Insurance
France
A Dashcam to Cut Down Insurance Premium Costs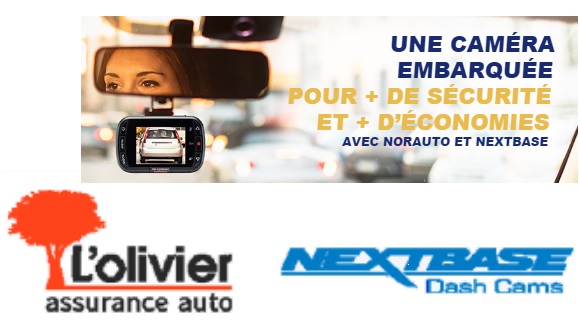 FACTS
A tripartite partnership has been announced by the car maintenance company Norauto, the online insurance service L'Olivier and technological specialist Nextbase.
Through this partnership, they came up with an exclusive offer intended to cap insurance premium costs for car drivers agreeing to install a dashcam in their vehicle.
Customer process:

The car driver buys a Nextbase dashcam at a Norauto location,
They get an insurance premium quote online or via calling L'Olivier Assurance,
They key in a dedicated discount code (written on the box of their Nextbase Series 2 dashcam).
An advisor from L'Olivier Assurance calls them back to complete the subscription process,
Documents validating the offer must then be sent to L'Olivier Assurance by the new subscriber.

When purchasing a Nextbase dashcam, car drivers have access to a 10% discount on premium costs (within a €100 limit). This discount can go up to 15% (within a €125 limit) if they choose to have the camera installed at a Norauto location. The refund is directly credited to their bank account.
Once the dashcam installed, insured parties' routes may be recorded and video footage can be stored in case an accident occurs, by way of simplifying some procedures including

Damage reports and claims,
Establishing litigation causes,
Assessing compensation costs.
CHALLENGES
A prospective asset. L'Olivier Assurance hopes that reducing premium costs will attract new customers, especially given the scale of Norauto's network and their high frequentation rates.
A lever for attracting customers. For Norauto, this partnership could a means to sell more dashcams, drive customers to their network and boost frequentation levels for their workshops (when the cameras are installed).
Betting on customers' interest in connected devices. "Pay as You Drive" insurance offers have become more popular over time and in-car connected boxes are now commonplace. Norauto, L'Olivier Assurance and Nextbase are relying on these tools since they are now viewed as quite casual: a camera would no longer be a major obstacle to customer adoption.
MARKET PERSPECTIVE
These partners may have drawn inspiration from the Russian model to build their concept. On this market (and, to a lesser extent, in the US), on-board cameras are widespread especially to prevent insurance fraud.